How to choose plastic Tokens by size, shape and price
Who uses plastic tokens?
Different uses for plastic tokens
School tokens
Reward tokens
Meal and drink tokens
Trolley Tokens
Voting
Admission tokens
Concessions tokens
Custom tokens
Coloured plastic tokens:
We provide tokens in a range of colours (see below).
We also offer a colour match service upon request. If you are looking for a particular shade to match your corporate logo etc. just let us know.
Available colours for plastic tokens
Black
Red
Green
Blue
White
Aqua
Pink
Yellow
Light blue
Orange
Gold
Silver
Bronze
Purple
Lime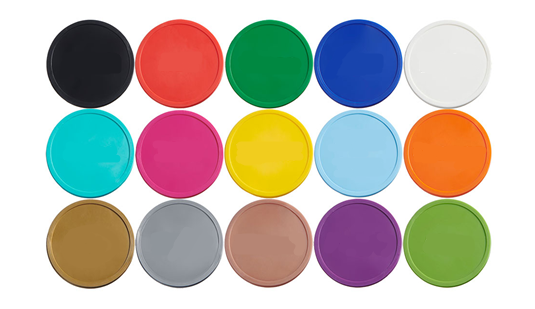 Custom plastic tokens
If you are looking for something bespoke, TokensFor can help. Lots of our clients request personalised colours to match their brands, specific image prints and customised sizes and shaped tokens. If you need your tokens branded with a specific design in mind, let us know:
We can offer:
printed tokens
embossed tokens
bespoke shape tokens
bespoke size
bespoke reward systems
bespoke collectors
For more information, see our guide to custom tokens.
Have a look at all our customisations via the customisation menu
Sizes
We offer three standard diameter sizes for our tokens:
22mm – Trolley or locker tokens
25 mm
35 mm
48 mm
Shapes
We have two standard shapes:
These shapes can incorporate multiple designs within them.
Circular
Circular designs include:
plain
house points
smiley face
sad face
well done
voting tokens
one free drink
one drink
1 token
meal token
meal voucher
currency tokens (as 50p, £1 and £5)
Stars
Stars can convey extra special praise such as a major achievement etc.
TokensFor can also customise the shape of your token—just drop us a line!
Order quantities
*Quantities are price breaks are due to change
Order quantities
*Quantities are price breaks are due to change
| | |
| --- | --- |
| Diameter | Minimum order quantity |
| 22mm | 1,000 |
| 25 mm | 1,000 |
| 35 mm | 1,000 |
| 48 mm | 1,000 |
| Star | 100 & 1,000 |
Prices
*Quantities are price breaks are due to change
Diameter

Colour

Cost

22mm

Primary

£40

Secondary

£45

Bronze, Silver, Gold

£50

25 mm

Primary

£40

Secondary

£45

Bronze, Silver, Gold

£50

35 mm

Primary

£56

Secondary

£61

Bronze, Silver Gold

£66

48 mm

Primary

£135

Secondary

£235

Bronze, Silver, Gold

£250

48 mm star

(min. order 100)

Primary

£20

Secondary

£25

Bronze, Silver ,Gold

£30
Accessories
Accessories are a great way to transport or store your tokens, while being fun and interesting.
Accessory

Image

Price

Fun and colourful
Handy for teachers to store house point tokens
Available in a range of colours: red, blue, yellow, dark green, light green, pink, orange and purple!

£1.50

Useful for carrying small numbers of tokens
Can be worn around neck for safe-keeping
Available in red as standard (enquire about other colours for larger numbers)

£3

Designed for 25 mm and 35 mm tokens
30 tokens per sleeve
Can be used with a standard Q4 ring binder

£1.20

Made from strong yet lightweight material
Waterproof
Durable
Tear-resistant
16 colours available

£42.50–£47.50

(pack of 500)
Collectors
Collectors are a more permanent way to store tokens.
Collector

Image

Price (excluding delivery and VAT)

Manufactured to hold 25 mm tokens or smaller
Coloured bases
Removable header with space for your own graphics
Desktop-based
cannot be attached to a wall

£80

Small Upright Linkable Drawer Unit

Linked unit can be bought at quantity
Come with fittings to be mounted on counter/wall
Popular for school and colleges
Can be used as house point token collector
Token capacity (approx.)

£52.50

500 token capacity
50 sections of 10 tokens for easy counting
25 mm and 35 mm available
Perfect for transporting large numbers of tokens

25 mm—£26

35 mm—£30
School token starter sets
To get you started on your school reward system, we've combined tokens to create starter sets.
Starter kit

Image

Price (excluding delivery and VAT)

Classroom starter set

28 mm Small Desktop x 4 Tube 25 mm Standard—House Point

Contains:

1 x 28 mm small desktop x 4 tube unit (in standard colours)
1,000 x 25 mm house point tokens (250 of each of the following colours: red, green, blue and yellow)

£100

Medium school starter set

54 mm Large Desktop x 4 Tube 25 mm Standard—House Point

Designed for small schools!

Contains:

1 x 54 mm large desktop x 4 tube unit (in standard colours)
2,000 x 25 mm House Point tokens (500 of each of the following colours: red, green, blue and yellow)
50 x gold star shaped tokens

£260

Whole school starter set

94 mm Floor Standing x 4 Tube 25 mm Standard—House Point

Contains:

1 x 94 mm floor-standing x 4 tube unit (in standard colours)
8,000 25 mm house point tokens (2,000 of each of the following colours – red, green, blue and yellow)
100 x 48 mm gold star shaped tokens

£600

Pupil voice voting set

2 x Small Wide Drawer Unit 25 mm Red—Plain

Contains:

2 x small wide drawer units
1,000 x 25 mm plain tokens (either red, green, blue, yellow, lime, orange, purple, aqua, light blue, cerise, black or white)

£115
Related content
Guide to classroom token reward systems