About Us
We are TokensFor Limited, formerly known as C A Grant Limited / Plastic Tokens (www.plastictokens.co.uk) and are based in Sheffield, United Kingdom. In 1973, we began manufacturing plastic travel tokens to local Councils across the UK for use on public transport.  Since then, we began developing token-based reward solutions for schools that encourage positive behaviour of their pupils.
TokensFor has grown each year and now manufactures millions of plastic tokens annually for the education sector, businesses, events and festivals. We also manufacture acrylic collectors which are the perfect partner to store our tokens.
Company name:  TokensFor Limited
Address:                    111 Leigh Street, Sheffield, South Yorkshire, S9 2PR
Telephone:              (0114) 261 1196
Fax:                               (0114) 244 2476
Email:                          sales@tokensfor.com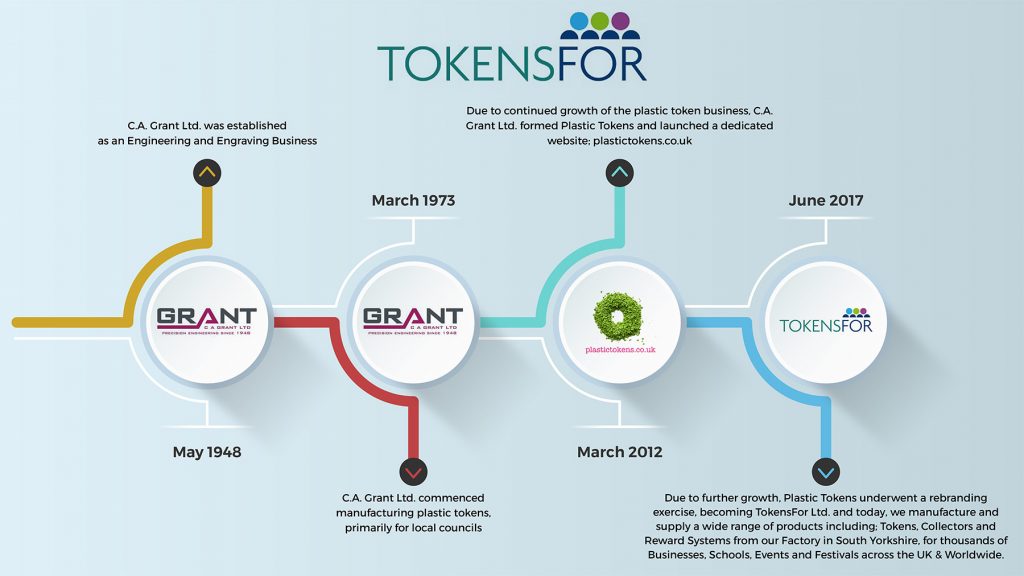 Meet the team
If there is one thing that we have learned over the years, it is that no amount of technology can replace the human touch. That is why we have only the most qualified individuals to serve on our team. We look for people that share our philosophy that your business is our business.
Our team of diversely skilled professionals who continually push themselves to learn and evolve so that we may help you conquer each new challenge on the road to success. Every person in our small team is committed to providing you with the best possible customer service and the highest-quality products. This commitment is reflected in everything we do:
Managing Director             – Mark White
Technical Engineer          – Alan Jackson
Business Administrator – Rachael Slavin
Manufacturing Expert    – Irene Turner
Manufacturing Expert    – Andrew Clark